During our February full-team meeting, the PERVADE PIs had the opportunity to brainstorm and work with advisory board member Camille Nebeker from the University of California San Diego. Dr. Nebeker is the project director and principal investigator for the Connected and Open Research Ethics (CORE) initiative, supported by the Robert Wood Johnson Foundation.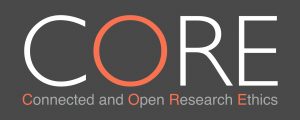 CORE is a growing community of researchers, regulators, privacy experts and technologists who are interested in shaping ethical practices that support responsible tech-enabled research studies. CORE provides a network for discussion and Resource Library containing approved study and participant materials for researchers exploring ethical and responsible conduct of research.
We encourage researchers with an interest in ethics and/or pervasive data to participate on the CORE Forum and explore the growing CORE Resource Library.