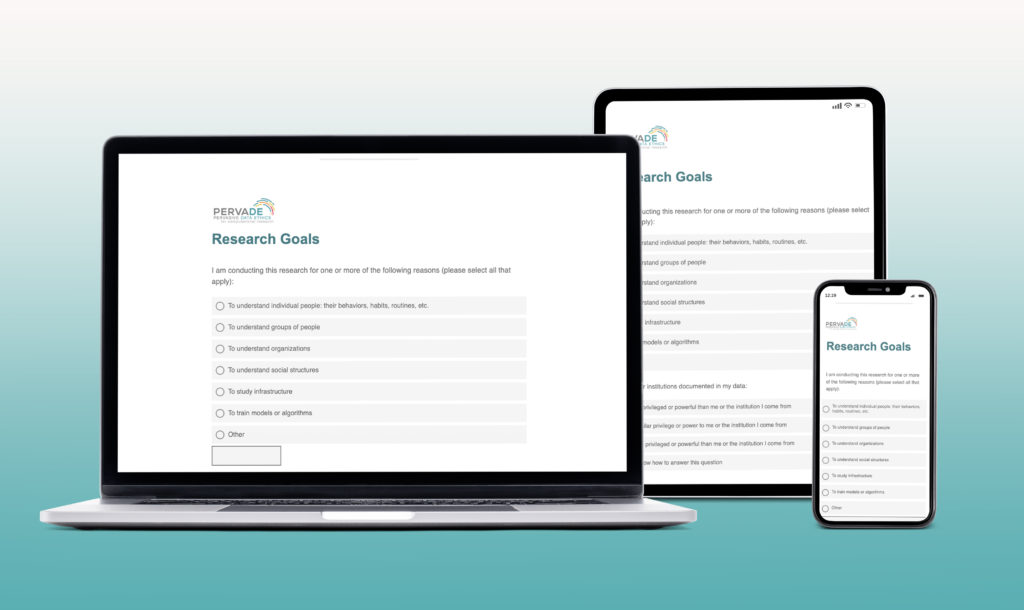 Image by rawpixel.com on Freepik
The Data Ethics Tool is now live!
What is the data ethics tool?
The PERVADE Data Ethics Decision Support Tool was created by the PERVADE research team as a product of a long-term project focused on empirical questions in data ethics. A major finding of the project is that, when it comes to delineating ethical data collection and use, the answer is almost always it depends.
Ethical data use depends on the contexts and tools of data collection, the awareness and expectations of data subjects, decisions made about storage, analysis, and sharing, and your own positionality as a researcher.
This tool is designed to walk you through those many factors, and to refer you to resources to help you make informed decisions about the many complex factors that shape data research ethics.
Who is it for?
The PERVADE Data Ethics Decision Support Tool is designed for academic data science researchers, which might include researchers doing things like:
✓ Digital health and digital mental health
What are the Tool's Goals?

To help you get familiar with the factors that matter most to ethical data use

To help you find relevant resources to guide your research

To increase the reflexivity of data scientists towards data ethics
When can it be expected by?
A beta version of the tool is available now! We will also be refining the tool over time, based on your feedback and feedback collected at data science conferences.
Why is this tool built in Qualtrics?
Qualtrics was the most robust and customizable question-and-answer software we could find to support the decision support tool. Because it is also a survey tool, Qualtrics does record your answers. However, we are not using these answers for research, and your identity will not be linked to your answers in any way.
If you wish to receive your customized results and recommended resources at the end of using the tool, this will require entering an email address. We will not use your email address or link it to your answer, and we will delete all email addresses we receive.
Have any suggestions or thoughts?
Contact email: pervadeischool@umd.edu
Support
Tool development is supported by NSF award IIS-1704369. Technical development of the tool was led by Miya Oshiro, and content development was led by Katie Shilton, Emily Dacquisto, Matthew Bietz, Casey Fiesler, Jacob Metcalf, Jessica Vitak, and Michael Zimmer. We also thank the UMD HCIM Capstone program and the Capstone team including Niloofarsadat Alavi, Erika Catipon, Bree Douthitt, and Sarah Snider for their amazing prototyping and design work.
preview by creative outlet from Noun Project